August 28, 2013
by: LeafBridge Services Contributor
Improving Therapy Outcomes by Addressing Mental Health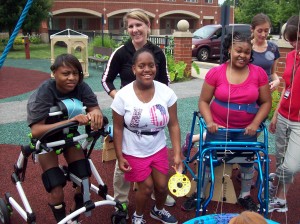 Beginning in February 2013, UCP occupational therapists were invited to participate in a OT Change Leaders of Cleveland  group by Susan Bazyk PhD, OTR/L ,FAOTA from the Cleveland State University. Five OTs, Amanda Stohrer MS,OTR/L, Erika Dicken OTR/L, Intesar Taye, Director of Children's Services OTR/L,  Julianne Houska MS,OTR/L,  and Lindsey Tharp MS, OTR/L, from both the Wolstein Center community-based therapy center and the schools joined the group directed at mental health awareness as it relates to children's services.
It is estimated that approximately 70% of children with mental health issues do not adequately receive services. Occupational therapy is a function based discipline and therefore the therapists possess the necessary skills to assist children in participating in and accessing desired and meaningful activities at their highest ability to directly affect their mental well-being.  Participation in structured leisure activities is an important context for development.  Following the insight received from Susan Bazyk and fellow occupational therapists, we at UCP have incorporated this essential piece of mental health awareness into OT treatment sessions and used this information to educate the UCP Children's Services team.
This summer we had the opportunity to pilot several group therapy sessions during our STEPS intensive therapy program.  The groups ranged from two to four children, each working on their own goals, however participating in group based activities including baking, sports, aquatics, crafts, and play. The groups were selected by age and interests.  Through these groups many positive outcomes were noted.  The children were more motivated to participate in parts of therapy that are typically more difficult for them if their peers were also participating in those activities. The children were more animated and interactive in their sessions.  Children of similar ages formed friendships with other peers that have varying degrees of disabilities. These groups were a positive experience for both children and staff alike.
As time progresses we will continue to explore opportunities to further incorporate mental wellness into therapy sessions and provide families with resources to explore in the community to encourage all children to develop their passions.  If you have any questions regarding incorporating mental wellness into therapy at UCP, please feel free to discuss the topic with your child's therapist or contact Intesar Taye at itaye@ucpcleveland.org or 216-791-8363 ext. 1247.
Resources for families who want to know more about mental health:
Center for mental health in schools:  http://smhp.psych.ucla.edu
www.Schoolmentalhealth.org
www.Yogakids.com
http://www.handsonscotland.co.uk
Thank you to our Children's Services Contributors for this week's blog post:
Erika Dicken, Occupational Therapist
Amanda Stohrer, Occupational Therapist
---