September 26, 2013
by: Emily Hastings
DSP Spotlight – Michelle Polk-Ferguson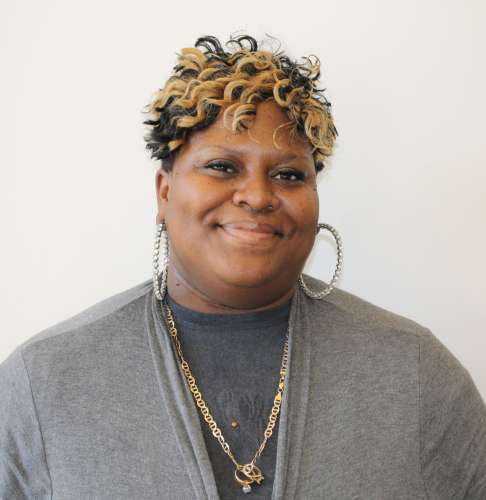 The first thing you notice about Michelle Polk-Ferguson is her effervescent smile. She is one of those rare people who lights up a room with her positive energy, which is a great quality for a Direct Service Professional (DSP).
DSPs provide assistance to people with developmental disabilities and allow them to advance their independence, productivity and inclusion in the community. They assist with daily tasks such as personal hygiene needs, medical aid, meal preparation and housekeeping.
Michelle began working for UCP in January of 2000 as a DSP at the Edendale Group Home, and nearly 14 years later she remains at the same site. She became a DSP because she finds it rewarding to help clients who have disabilities, and says this job even inspired her to complete her nursing degree.
"My favorite thing about working at UCP is the fulfillment I get from making my clients' days a little bit easier," says Michelle. "Helping someone make their day complete leaves me with a smile on my face."
Michelle's favorite memory of working as a DSP is when she was able to organize a Luau Party for the residents. She created the menu, booked a DJ and found Hawaiian dancers and jugglers to perform. Residents invited guests and all had a great time!
Although there are numerous positive aspects of being a DSP, like any job you face some challenges. Michelle says she thinks the most challenging aspect of her job is dealing with the different personalities of each client, and that it is important to have a "go with the flow" attitude when working through any issues that arise.
Michelle's supervisor, Eula Ott, has only glowing remarks about Michelle's performance, saying that Michelle is often the "staff of choice" requested by clients to accompany them on outings and appointments.
"Michelle is one of the most dedicated staff I know," says Ott. "She is very approachable and always willing to help out wherever she can. The care and devotion Michelle demonstrates to our clients is very apparent."
This dependable, hard-worker says this job has taught her how to be a team player and to think of others' needs before her own.
"I am truly blessed to have worked with a company that welcomed me in so graciously," says Michelle. "This organization has helped me grow into the woman I am today. UCP will always be an extended family of mine."
This week is National Direct Support Professional Recognition Week. UCP of Greater Cleveland would like to thank our 165 wonderful DSPs for all of their hard work and dedication in serving our clients.
---