January 23, 2017
by: Emily Hastings
Connecting DisABILITY & Employment Breakfast
OakLeaf Partners is pleased to invite area businesses to the Connecting DisABILITY & Employment Breakfast, hosted by UCP of Greater Cleveland's Business Advisory Committee, on Wednesday, March 8, 2017 at the Metroparks Watershed Stewardship Center (2277 West Ridgewood Drive, Parma**).
This event, which fits perfectly into Development Disabilities Awareness Month, is a great opportunity to learn about adding value to your company by employing individuals with abilities of all levels. Brian M. Zimmerman, Chief Executive Officer, Cleveland Metroparks, will be the Keynote Speaker. The event goes from 7:30 – 9:30am, with the program beginning promptly at 8:00am.
There is no charge to attend, however reservations are required. Please RSVP to Emily Hastings at (216) 791-8363 ext. 1232 or ehastings@ucpcleveland.org.
For more information about OakLeaf Partners, please contact Sharon Meixner at (216) 791-8363 ext. 1261 or smeixner@ucpcleveland.org.
** Please note that most GPS devices will take you to the incorrect place (it will take you to their old entrance). The new entrance to the Watershed Stewardship Center is off W. Ridgewood Drive close to Broadview Road. Just look for the large Metroparks sign that says "West Creek Reservation." From there, follow the road straight back. You will dead-end into a large parking lot for the Watershed Stewardship Center.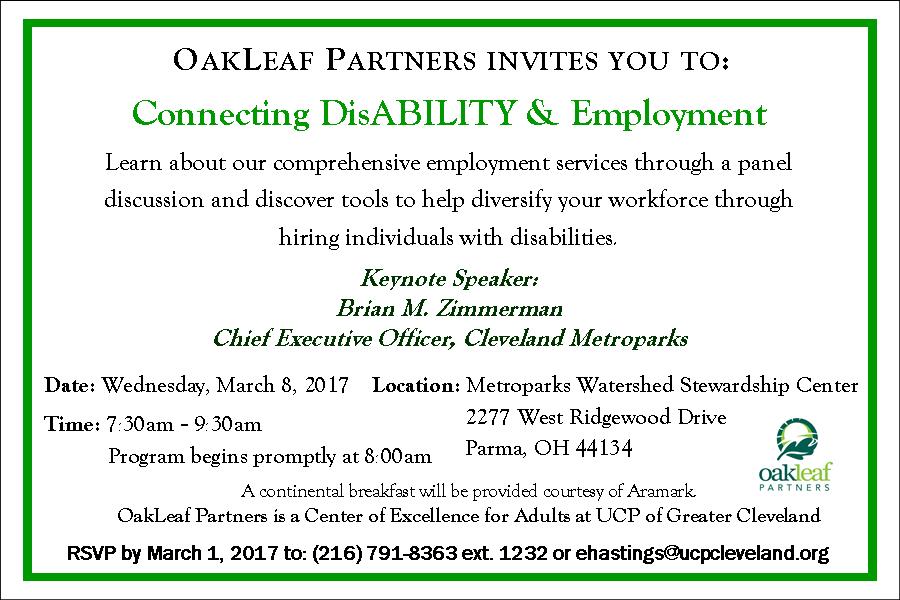 Save
Save
Save
Save
Save
Save
---