February 21, 2017
by: Emily Hastings
Local UCP of Greater Cleveland Client Sharita Taylor will Compete in 2017 Special Olympics World Winter Games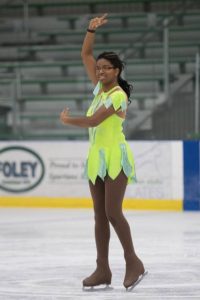 UCP of Greater Cleveland is pleased to announce that this March, Sharita Taylor, a UCP of Greater Cleveland Community Employment client, will be traveling to Austria with Team USA to compete in the Special Olympics World Winter Games. Sharita will be the only athlete representing Ohio at the 2017 Games. She will compete in the sport of figure skating in level five singles and level two ice dancing. Along with her twin sister, Shaye, Sharita has been ice skating since she was four years old. Taylor has earned numerous medals in singles, pairs and ice dancing at various regional competitions.
Taylor, who is 26, is also a UCP of Greater Cleveland contract employee at PNC Bank's Processing Center in Cleveland. She works in the Statement Prep and Image Retrieval Department. She first started receiving services from UCP of Greater Cleveland in October 2009, a few months after she graduated from Jane Adams Business Career Center.
"I love the atmosphere (at PNC Operations Center) and I love the people here!" says Sharita. "They make me feel at home. I love my job too! It keeps me up on my feet!"
She says her favorite job is delivering documents to other departments because she enjoys meeting and talking to people outside her division. Sharita also enjoys helping with mailings. Sharita states that jumping from job to job is challenging for her, but she just tells herself to focus. This job has taught her that it's okay to multitask.
Although Sharita enjoys her job at the bank, she is very interested in theatre and hopes to one day have a job in that field. She is active in Career Exploration Services at UCP, which assists clients in exploring a variety of job fields to see where their true passion lies. Sharita currently ushers at the Beck Center for the Arts, a local visual and performing arts center, and hopes that volunteering will lead to a paid position with the center.
By always focusing on her abilities and not setting limits on herself, Sharita is a shining example of how individuals with disabilities are contributing members of our community. As if work, volunteering and ice skating doesn't keep her busy enough, Sharita is also involved with SOAR, her bowling league and the Westlake Kiwanis Aktion Club. She also has a passion for entertaining people; she sings with her church choir, and the Taylor sisters have sung the National Anthem at the Special Olympics Ohio State Summer and Winter Games, as well as at a Cleveland Indians game and several other events around the Greater Cleveland area.
UCP of Greater Cleveland is proud of Sharita's accomplishments and wishes her success at the 2017 Special Olympics Winter World Games!
---