May 23, 2017
by: Tammy Gibson Willet
Aubri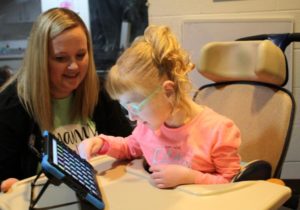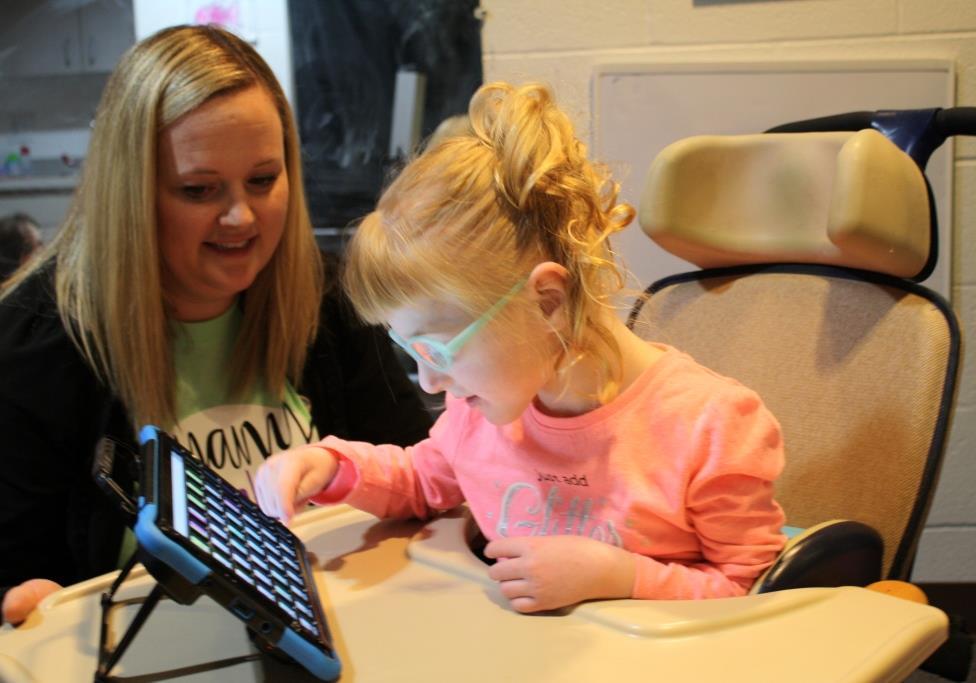 "My sister's name is Emersyn," can be heard coming from an assistive technology device. It is clear that Aubri is very excited about becoming a big sister and she tells everyone the BIG news. Her ability to share her excitement about her new baby sister wouldn't have been possible just a few months ago. Aubri is a bright and engaging five year old with an extremely happy and determined attitude. She was born 16 weeks premature and is described by doctors as having cerebral palsy with generalized muscle weakness and developmental disabilities that impact her motor function. When she first came to LeafBridge Therapy Services at the age of two, she had limited motor control and was unable to crawl or walk. She was nonverbal and relied on gestures to communicate with her family. LeafBridge therapists quickly determined based upon Aubri's behavior and reactions that she was aware of her surroundings and had a strong understanding of what was being asked of her. She started receiving physical and occupational therapy right away, working on strengthening and building motor control of her core and upper body so that she could participate in play.
She also started speech-language therapy to help her learn to communicate and to work on respiratory support so that she could use her voice and swallow safely. Three years later, Aubri is now able to sit independently and can stand for short periods of time. Because Aubri is not able to walk independently, her occupational therapist, Miss Katie, investigated power mobility. A power chair was loaned to Aubri for use at home, and she excelled! Aubri's mom expressed her delight in watching her daughter be free and able to drive in whichever direction she chose! Aubri can also now take steps when her body weight is supported. She uses a walker for mobility, but this takes a great deal of her energy and time. Power mobility truly gives her freedom to explore.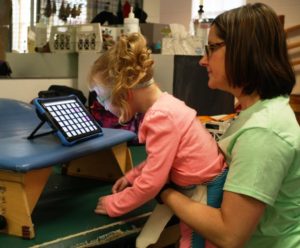 Miss Meghan, her speech-language therapist, helped Aubri trial different communication devices and found the one that worked best for her. Now she and Aubri are learning how to use her new NOVA Chat 10, and Aubri is quickly learning how to navigate the screens and pictures to form sentences. It is evident that she is a bright and funny young lady and is eager to share her thoughts and joy. Last week during physical therapy, Aubri told her physical therapist she wanted to go to see Miss Meghan. She first selected "people," then "UCP," then "Miss Meghan" and was so excited to use her talker to state her wish!
As Aubri becomes more independent, she is able to participate in school, demonstrate to her teachers what she has learned and to interact with her peers. Her family and our entire LeafBridge staff are extremely happy with her progress and can't wait to see what challenge Aubri will overcome next! The support of UCP donors helps to make success stories like Aubri's a reality.
---