December 27, 2017
by: Trish Otter
Year in Review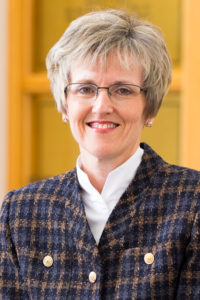 2017 was a good year for UCP and 2018 holds much promise!  As a nonprofit organization dependent upon our hard-working staff of 195 and Board of Directors of 40, as well as our donors, I am happy to report that UCP of Greater Cleveland continues to thrive!  While we have faced challenges, we have also celebrated successes this year. 
We continue to feel the squeeze of responding to additional government mandates that come with no additional dollars of support…and in fact, sometimes fewer dollars.  Our reaction – continue to find all possible efficiencies but balance that with the high quality of service for which we are well known.  We will not allow those we serve to feel the brunt of these changes.  In fact, in 2017, LeafBridge added a Feeding Clinic, Assistive Technology Mobility Clinic and Camp LeafBridge!  OakLeaf is on track to place a record number of adults into independent jobs and we served many more high schoolers in summer internships and job training than we ever have!  AND, we celebrated another three-year accreditation from the Commission on the Accreditation of Rehabilitation Facilities (CARF).  This continues our 40 years of accreditation and is further proof that we are a top-shelf organization and provider of services!   
2018 at UCP will be an exciting year.  In January we will bring new focus to our strategic planning.  That may not sound very "exciting" but if it results in enhancement and growth of program services as well as new sources of revenue and funds raised…that is exciting!  We will also work hard on our three major fundraising events – Race to Empower in May, Tee Up for UCP Golf Outing in June and Puttin' on the Ritz Gala in September.
We begin the year with our new Board Chair, Julie Jackson, who I believe is our first female chair!  In fact, I'm sure it is the first in the agency's history that both our Board Chair and Board Treasurer, Stacey Johnson, are female.  We continue to work on diversity and inclusion in all that we do. 
We consider it a privilege to serve the children and adults who choose UCP of Greater Cleveland as their provider.  We look forward to another year of service and making a difference in the lives of many.            
---