January 19, 2018
by: Christine Mencini
De'Mario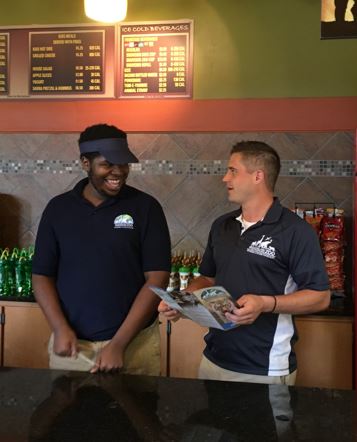 "It's a beautiful thing to see a former student become the teacher," says OakLeaf Partners Job Coach Maria Stearns. Maria is talking about De'Mario, who started out as a participant in the Summer Youth Work Experience (SYWE) program at UCP. The SYWE program allows transition-age high school students with disabilities to work with UCP staff to learn various vocational skills and appropriate work behaviors. De'Mario began his program in the summer of 2015, where he rotated to all of the Aramark sites involved with the program at Cleveland Metroparks Zoo. Maria adds, "De'Mario proved himself to be capable right from the start and had opportunities that previous students in the Summer Youth program had not been able to do. He opened that door for future students. Each task De'Mario performed he did well. He learned very quickly how to do the job, how long it should take to complete it, and maintain accuracy."
De'Mario was always on time to work, with a smile on his face that showed he was happy to be there. These are just a few of the reasons why Aramark decided to hire him when his summer internship came to an end. Not only did he become employed full-time, but he continued to work hard and eventually became a Stand Leader at three major stands throughout the zoo. He is in charge of supervising staff, counting inventory, making sure the stands are clean and customers are satisfied with service. De'Mario admits that the most challenging aspect of his job are the customers. "At first I wouldn't say anything and would get a manager if there was an issue.," said De'Mario. "But I watched how they responded to customers and now I do what they do and it works out."
De'Mario also helps to train the new SYWE students; he enjoys this aspect of his job since he went to school with some of the new students and likes giving them the same opportunities he had in the program. His manager, Shawn, is thrilled with his decision to hire De'Mario. If Shawn notices a SYEW intern who is not comfortable with Aramark staff or with being in the work environment, he is quick to pair that student with De'Mario so that he can offer his guidance and support.
De'Mario states that his most valuable experience while completing the SYWE program would be that it taught him how to handle constructive criticism, how to communicate with guests properly and how to handle his personal money; all skills that have proven to be extremely useful in his current job.
The Summer Youth Work Experience program at UCP was not only beneficial for De'Mario and his future, but is equally beneficial for SYWE participants who will follow in De'Mario's footsteps.
For more information about the Summer Youth Work Experience program and other transition services for young adults with disabilities, please contact Sharon Meixner at 216-791-8363 ext. 1261 or visit www.ucpcleveland.org/services-for-adults/community-employment/project-search/.
---