April 24, 2018
by: Emily Hastings
Featured Agency Partner: TEGNA Foundation

This quarter's Featured Agency Partner is the TEGNA Foundation, a corporate foundation sponsored by TEGNA, Inc., a multi-media company serving communities in 39 markets across the U.S. through empowering news stories, impactful investigations and innovative marketing services. Cleveland's local TEGNA station is WKYC Channel 3.
The TEGNA Foundation is driven by their strong purpose of serving the greater good of their communities. Their values – inclusion, integrity, innovation, impact and results – help them better understand and serve those in need. The Foundation also supports agencies and programs that celebrate the diversity of the communities they serve. TEGNA Foundation's mission and values align well with UCP of Greater Cleveland's mission to empower children and adults with disabilities to advance their independence, productivity and inclusion in the community.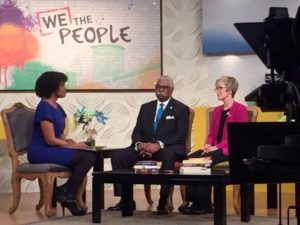 UCP's OakLeaf Partners is a proud recipient of a TEGNA Foundation grant in 2018, supporting our high school-to-work transition program, Project SEARCH. This program provides opportunities for high school seniors with disabilities to participate in three 10-week internships with the goal of becoming employed within six months of graduation. Program results are exceptional.
UCP's President & CEO, Trish Otter, was recently featured on WKYC's "We the People," along with other TEGNA grant recipients, highlighting the work TEGNA supports through nonprofits in the Cleveland community.
---