July 30, 2019
by: Emily Hastings
Woody's Order!
Woody's Order! is a hilarious and inspiring one-woman show written and performed by Broadway veteran Ann Talman. It will be coming to Akron's None Too Fragile Theatre starting August 16.
The Story: Woody was eight when he asked his parents for a sibling the only way a bright, nonverbal boy with cerebral palsy could – he pointed to Mom's tummy and Dad's… lap. The result: Ann – an actress/comedian torn between her Broadway career (playing Elizabeth Taylor's daughter) and being her brother's loving caregiver. How do you live your own life when you're WOODY'S ORDER?
Dates:
Friday, August 16th, 8pm
Saturday, August 17th, 4pm (Seá's Night Special Needs Performance – learn more here)
Saturday, August 17th, 8pm
Thursday, August 22nd, 8pm
Friday, August 23rd, 8pm
Saturday, August 24th, 8pm
Sunday, August 25th, 2pm
Monday, August 26th, 8pm
Thursday, August 29th, 8pm
Friday, August 30th, 8pm
Saturday, August 31st, 8pm
To purchase tickets, go to https://squareup.com/store/none-too-fragile.
Accessibility Note: The front row of the theatre can accommodate three wheelchairs. All other rows are accessible by steps. Requests for front row access will be on a first-come-first-served basis. When purchasing tickets online, there will be a 'buyer's note' where you can indicate special accommodation instructions. If the theatre has any questions to clarify needs, they will call or email the contact information provided. Patrons can also call the box office with specific questions at 330-962-5547. Due to the historic nature of the building, the restrooms are not handicap accessible. The theatre is working on building a ramp to the main entrance, so wheelchairs can access the lobby, but right now, the only wheelchair access is directly into the theatre space via the large coach house doors.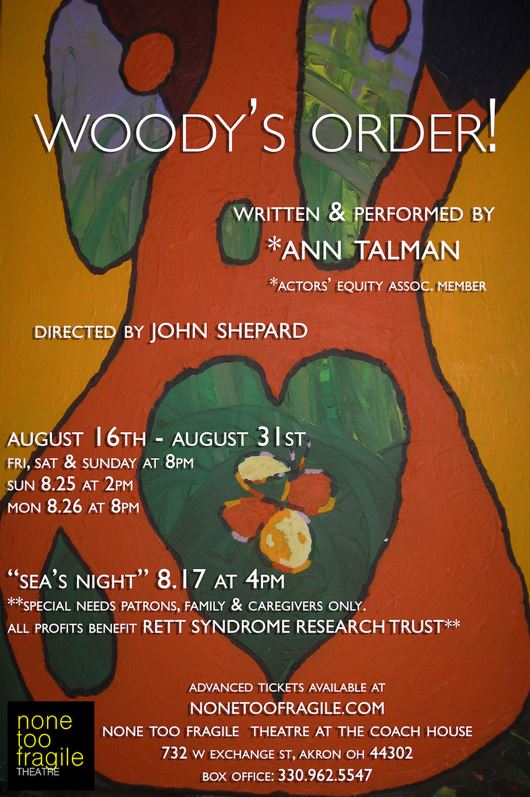 ---