May 15, 2020
by: Renee Canfield
Brian and Gretchen Colleran Foundation Gift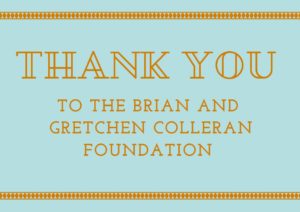 Earlier this year, UCP of Greater Cleveland received a significant gift from the Brian and Gretchen Colleran Foundation. Established in 2009 by Brian and Gretchen Colleran, the Foundation's mission supports organizations in Northeast Ohio such as UCP that wish to make a difference in the lives of those interested in cultivating community enrichment.
Brian and Gretchen Colleran have spent most of their lives in the Cleveland area and now reside on the near East Side with their three children. Brian's passion for the senior population prompted him to start his own long-term care business in 2000, which flourished into a successful enterprise. Building state of the art nursing facilities that provide top notch care to their residents is just one of the many initiatives he brought to fruition and that legacy continues today.
In addition to giving back to the Senior Community and enriching the lives of local children, Brian and Gretchen share a love of the arts, nature preservation and animals.
We are deeply appreciative for this wonderful family foundation and their generous spirit of helping to empower children and adults with disabilities!
---