June 1, 2020
by: Renee Canfield
Agency Closure Update – Extended through June 30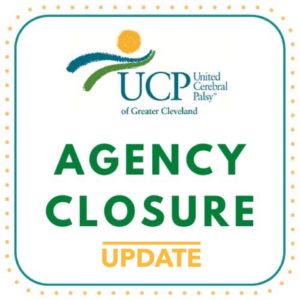 UCP of Greater Cleveland has been closed for on-site operations since the beginning of this pandemic. Due to the ever-changing COVID-19 situation and recommendations of government and health officials, the temporary closure of UCP facilities has been extended for the month of June.  
Please note that LeafBridge will continue to offer telehealth services throughout the month of June. This will include Traditional Therapy, STEPS to Independence and ESY services. Additionally, OakLeaf continues group home support and virtual job training and job development programming.
UCP is continuously reassessing resuming the operation of facility-based services by completing comprehensive internal and external analyses while keeping strict social distancing guidelines in consideration. Before moving forward with reopening, we want to ensure fiscal and social responsibility. We know that our families depend upon us for high-quality services and we want to be there for them, our staff, donors, volunteers, and community partners when this pandemic comes to an end.
We will continue to offer updates on social media as well as here on our website: www.ucpcleveland.org. If you would like additional information, please call (216) 409-0021.
---