June 22, 2020
by: Emily Hastings
Amelia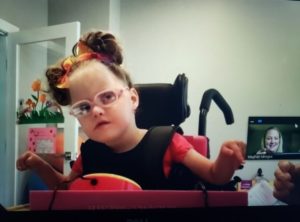 Amelia has received therapy at UCP's LeafBridge Therapy Program for the past three years. When the agency's in-person therapy services temporarily closed due to COVID-19, Amelia started virtual physical, occupational and speech therapy sessions through UCP to address all areas of development. Since beginning her virtual speech services, Amelia has blossomed in her communication skills while working alongside her mother at home.  
Amelia is participating in speech therapy twice a week via Zoom to work on two main goals: expanding her communication using her speech generating device and improving her swallowing skills for safe eating. She is making great strides in both areas! Her mother, Shelly, has been attending all virtual sessions with Amelia in order to take suggestions from the therapists and learn strategies to implement throughout Amelia's day. If anyone should be given an honorary therapy degree, it would be Shelly! 
Amelia uses a speech generating device which uses two switches to select icons or words for communication. It is not a small task to learn, yet Amelia is now able to request her wants using the speech device with more independence. She has thrived with these skills over teletherapy and continues to build her vocabulary each week as she uses her speech generating device throughout the day.   
Teletherapy has continued to show us just how important and beneficial at-home family involvement can be for a child's overall development.  
---