June 30, 2020
by: Guest Contributor
Race to Empower – An Empowering Experience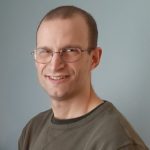 UCP of Greater Cleveland welcomes the following guest post from Zachary Fenell. Fenell, aka "The Cerebral Palsy Vigilante," is an author, blogger, and all-around cerebral palsy advocate. Zachary's memoir Off Balanced details his journey from feeling embarrassed about being different and having a disability to learning to embrace his disability as part of who he is. For more from Zachary, make sure to visit zacharyfenell.com.   
Too often hesitancy looms. Self-doubt freezing you in place. Keeping you in the cold, away from the enriching warmth which empowers you to grow.  
Trust me. I know something about self-doubt. At 27 years old I participated in my first road racing event. Partaking in the one-mile fun walk part of Minute Men's annual Inside the Park Home Run race. Probably the closest I came to an organized athletic activity since an after-school basketball program I partook in one year during elementary school.
Heck! By junior high I stopped actively participating in gym class. Instead I earned my state mandated physical education requirement by serving as the gym teacher's assistant. An accommodation made to appease my parents' concern over my safety. Given my spastic diplegia cerebral palsy, I proved weaker than my able-bodied peers. Add in worries regarding my peers becoming increasingly competitive and the idea I actively participate in gym class seemed unsafe.
Going even further, two years later when entering high school, I received a complete exemption from physical education. The prior summer I underwent back surgery. An unforeseen consequence left my right leg temporarily paralyzed. Setting ahead a long trying road to recovery, which included needing to relearn how to walk and intense physical therapy sessions.  
To summarize my point and bring everything back to more recent times, I possessed little experience with physical activity. Besides my years and years in physical therapy.  Nevertheless, the Inside the Park Home Run one-mile fun walk went well. So well, I became hooked on the road racing scene. Although, becoming comfortable in the scene took time.
Remember those self-doubts I alluded to earlier? They lingered within me. Before my first 5k, my imagination painted a scene. Me struggling to fasten my BIB to my shirt, someone coming over, taking my BIB and saying, "This isn't for you." Reality saw the opposite occur. Everyone involved with Lake View Cemetery's A Run Through History encouraging me and cheering me on.
Another instance I registered for a 5k. Anxiety dancing around my insides as I lined up at the starting point. No where on the registration page did the Monsters Community Fun Run mention walking. I hoped I could walk without someone yelling at me "Run. Run!" Similar to the way a lifeguard might yell at kids goofing off in the pool. Instantly I relaxed when I heard the gentleman next to me say to his friend "I hope there are other walkers in the group."
A few years, multiple 5ks, and even a half marathon later, I embarked on a journey once seemingly unfathomable. Completing a full marathon! 26.2 continuous miles. Alongside the venture came new self-doubt. Would I be fast enough? The Towpath Marathon had a special early bird 7am start time and the path closed at 2pm. Seven hours to walk 26.2 miles. According to my calculations, I would likely need eight hours. Alternative to letting the facts get me down, I reached out to the race organizers. Explaining my situation and asking if I could start sooner than 7am. They remained quite receptive to the idea. To date I have done the Towpath Marathon twice. Both occasions the first one on the course in the 5am hour and the last to finish.
In-between the 2017 and 2018 Towpath Marathons I continued partaking in other races, including UCP of Greater Cleveland's Race to Empower. In the past a friend suggested the race to me. Unfortunately, scheduling conflicts kept persisting.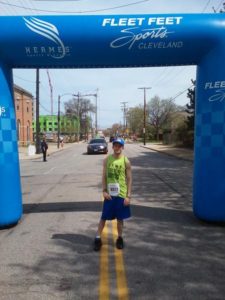 That thankfully changed in 2018. Considering my passion for disability advocacy, the Race to Empower greatly appealed to me. An aptly named event I quickly observed. Admittedly I came in a bit meekly. I picked up my race packet, pinned on my BIB, and leaned against the building's brick wall awaiting the race to start.
Noticing the enthusiasm displayed by the different teams taking their team photos in front the green screen increased my anticipation to get going. Learning, via the pre-race announcements, how many families and children who receive services from the UCP participate put me in awe. Only one word could describe seeing such participation, whether the one mile, 5k, or 10k distance. Awesome!
Seriously, the visual means a lot. To see others like you doing something you desire doing works wonders to silence the previously discussed self-doubts. Empowering you to think "I could do this too." Surely easier than needing to develop the mental toughness to handle finishing last. Precisely what I went through to grow comfortable in the road racing scene.
Anyway, mentioning last I ended up the last to cross the finish line. Yet this last remained entirely different from any past last place I experienced. Choosing to complete the 10k, my last few miles held the potential to become lonesome. Then as I passed by where a race volunteer was stationed, he asked "Do you mind if I walk the last couple of miles with you?" One mile later, a second volunteer asked to join us.
Upon approaching the finish line, surprise hit me. Typical last place finishes tend to involve finishing with a few people around, maybe even just race staff and volunteers. A good number at the Race to Empower chose to stay. There cheering me to the finish. Amazing!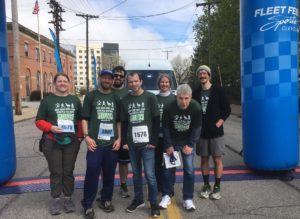 In the moment I recalled thinking "The only way to make this experience better is if I could share it with my friends and family." Therefore, I vowed to return the next year and lead my own team. Exactly what I did!
Family, friends, and even my private physical therapist from childhood formed Team CP Vigilante! Two friends from college and my past physical therapist elected to keep my pace and complete the 10k. All three's first 10k. I remember my past PT commenting how much she enjoyed the enthusiastic encouragement the volunteers gave at the 10k turn around point.
Really, I could go on raving about UCP's Race to Empower. In two short years the event has become a cannot miss for me.  If anyone out there finds themselves contemplating about registering and participating, do so! While the 2020 UCP Race to Empower has gone virtual, the race's empowering spirit remains unchanged. Your participation will ensure that.
Whether you run, walk, roll, limp, however you move, show your support for the UCP. Register and MOVE!
– Zachary Fenell, The Cerebral Palsy Vigilante
Please note that the views and opinions expressed on guest blog posts belong solely to the original author and do not necessarily represent the views and opinions of UCP of Greater Cleveland.
---