July 29, 2020
by: Emily Hastings
Camp LeafBridge 2020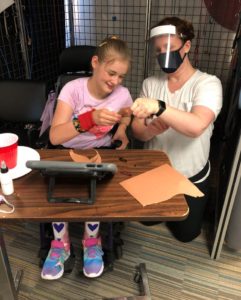 Camp LeafBridge began during the summer of 2017 and was established for students with physical disabilities and/or moderate to severe learning needs. Students experience a rich summer program highlighting community-based learning. The camp is designed by physical, occupational and speech therapists with support from an intervention specialist and one-on-one assistants. IEP goals and objectives are embedded into activities that promote engagement and meaningful participation. Students have many opportunities to practice social skills, communication and functional academics during engaging activities. During this year's four-week camp, students explored one of the four elements each week: earth, fire, water, air. 
Week 1— Earth: All of the activities this week were based on nature. We made bird feeders, had fun with play dough, painted a rock to make a succulent garden, made a flower garden, helped bees pollinate flowers and made animal tracks.
Week 2— Fire: All of the activities this week were based on fire and heat. We made dragons, put out fires, erupted volcanoes, made suncatchers, played with water cannons and made solar flares.
Week 3— Water: All of the activities this week were based on water and animals that live in the water. We played with water beads, made ocean gel bags and made fish and went fishing for them.
Week 4 – Air: While exploring air and wind this week, students listened to the sounds of wind chimes, made fans and had dance parties with streamers and bubbles!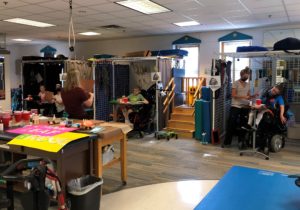 This year provided unique challenges of social distancing and enhanced health and safety protocols. Each student was paired with one staff member to minimize contact with multiple people. Each student was also assigned their own personal space or "home base" that was only for them and the spaces were strategically distanced for other camps yet allowed for large group interactions or observation of peer's activities. Student's one-on-one staff member assisted and provided individualized support for all activities as an experienced "camp leader" (OT/PT/SLP) conducted sessions from a distance. Whenever possible, activities were conducted outside in large, open spaces. 
With our fourth year of camp in the books, we are already looking forward to next summer's camp sessions! For more information and to register your child for summer activities through LeafBridge, please contact Children and Family Services Manager, Celia Chesnick at cchesnick@ucpcleveland.org or 216-791-8363 ext. 1260.
---