November 6, 2020
by: Renee Canfield
Amy and Mike Southard Adaptive & Inclusive Playground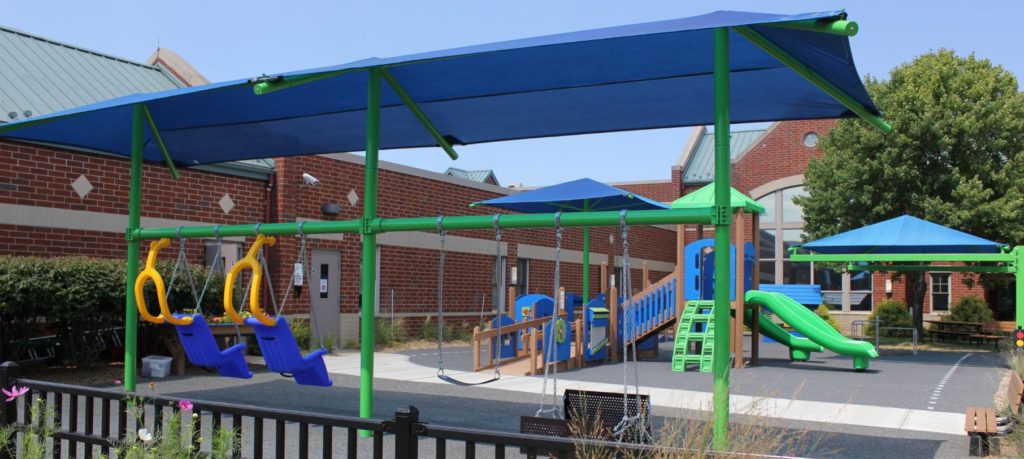 When the doors of the UCP of Greater Cleveland Iris S. and Bert L. Wolstein Center opened in 1999, a playground was newly constructed just outside its front entrance. However, over time, the outdoor area became weathered and worn – to the point of being nearly unsafe for use by UCP clients and staff. As this happened, the need to completely renovate the open-air space so critically used for therapeutic and recreational activities became increasingly more apparent; but, for years, the high price tag stood in the way of making the dream a reality.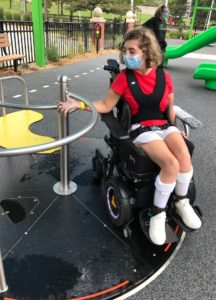 Trish Otter, President and C.E.O, spoke of this dream at our 2019 gala during which she urgently invited members of the community to make an impact on the renovation of the playground. Two guests in attendance that evening, Amy and Mike Southard, were intrigued by the opportunity to be involved with such a project. Not long after the event, Amy and Mike committed to a transformative gift through their foundation, Crofton Cares, which catapulted us over the capital campaign goal by significantly adding to donations made by Medical Mutual, Solana, and Megan and Gordon Short, thereby making the new space come to life. Staff members invested countless hours scanning catalogs to finalize selections and layouts to achieve maximum use of the area and ensure it to be as adaptive and inclusive as possible. On a cold and snowy day in late January 2020, Freedom Construction Services donated their time by providing a crew of workers to demolish all of the outdated and damaged surfacing and equipment. Construction and installation began in March and, although delayed due to pandemic-related shutdowns, was complete for UCP's reopening in July.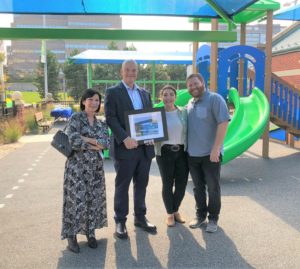 On October 10, a beautiful fall day, we officially dedicated the Amy and Mike Southard Adaptive & Inclusive Playground at UCP of Greater Cleveland with a small, intimate, and distanced gathering. In just three months, the new playground has hosted many therapy sessions, a butterfly release, bubble parties, staff lunch breaks, and more. The bright-colored playground greets all clients, staff, and guests upon entering our facility and has proven to be a shining star during an otherwise dark time.
---