July 26, 2021
by: Emily Hastings
UCP Announces CEO Retirement and Leadership Transition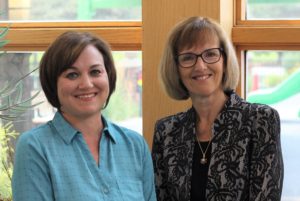 The coming year brings a bittersweet transition for UCP of Greater Cleveland as we say goodbye to Trish Otter, our President & CEO of the past 14 years, and congratulate current COO Beth Lucas who will lead us into the future as our new CEO.
After more than 20 years of service, Trish plans to retire at the end of 2021. Trish has undoubtedly made a positive impact in the lives of the children and adults we serve by first bringing her human resources expertise to UCP in 2001 and then assuming the role of President & CEO in 2007.
Beth, who has worked closely with Trish, UCP employees, board members and partners after starting with UCP in 2008, will move from her current role of Chief Operations Officer into that of our President & CEO in January 2022. Along with her deep connection to our mission, Beth's strong blend of fundraising, operations and marketing capabilities will guide her as she embarks on this next phase of leadership for the Agency.
To read the official announcement from the UCP Board of Directors, click here.
---