January 19, 2022
by: Beth Lucas
A Letter From Our New President & CEO, Beth Lucas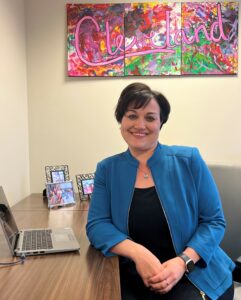 As I settle into this new role, I think it is natural to look back on my 14 years at UCP of Greater Cleveland, first as Director of Development and then as COO. I realize the good fortune I have had to learn from everyone around me, even those who touched my life for just brief moments. Although I am positive there is nothing that could have prepared me more to lead this organization than the past two years have, there are so many unforgettable experiences which will help to shape the future.
What I remember most about the early days is, without a doubt, the Cleveland Triathlon. This type of race is not easy; it requires deep commitment and resolve. And for 10 years, the members of Team UCP woke up before dawn to swim, bike, run and volunteer. There were children and adults from our programs, their families, UCP employees and people from the community. Hundreds were 'Inspired to Tri' at a race that quite literally displayed what can happen when you work together. Team UCP raised over one million dollars. The scenes of the day were a true showcase of ability, determination and empowerment. It was both thrilling and emotional to watch each racer cross the finish line, especially the UCP kids, many taking those last few steps on their own.
What made this event so special is that it embodied how our employees go about their work, even on the 'ordinary days' at UCP. It was a true testament to the ways the individuals we serve strive for independence and inclusion in the community. I have the opportunity daily to witness first-hand the passion at UCP. Everyone does their part to make this organization whole. You can see this from the Board of Directors, the leadership team and employees across every department and in all positions. And our donors and funders help make it possible.
The reality of today's world has weighed heavily on us at the Agency. However, in the midst of challenges that can seem to be insurmountable, we still keep a certain degree of optimism that we will continue to grow stronger. Our employees refuse to give up or give in, and that has been obvious to me from day one. They make sure our programs are not only effective, but that they are meaningful and make a lasting difference in the lives of people. We are, in every way, Team UCP.
Moving forward, we will need to adapt to the changes in our field and in the way we all live. We will build strategies that are both aspirational and achievable while keeping in mind the traditions that have made UCP special and all those who came before us. I am deeply grateful for the opportunity to serve this organization. I thank each and every one of you for all you do for UCP of Greater Cleveland.
Be Well,
Beth
---