March 16, 2022
by: OakLeaf Services Contributor
Tyrone's Art Journey
By: Amy Vedova, OakLeaf Activities and Training Manager
"I've been an artist my whole life, but I started my business 10 years ago," said Tyrone Peacock. "It started off slow but now it's going great!" Tyrone has never let his physical disability get in the way of his artwork. He has found that the hand-over-hand technique works best for him, and for people who help him.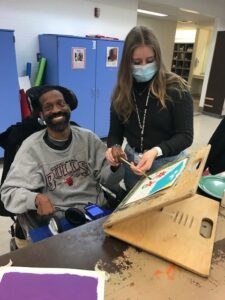 His mind creates the pieces, he just needs physical assistance to make his visualizations come to life on paper. It's been a nice collaboration of people who have helped him on his journey. He has staff at home, staff at UCP, art therapists and Jesuit Volunteers. It was a JV that was placed at UCP in 2018, Ellen Piccolo, who helped Tyrone develop an order form for people to be able to commission his original artwork. Tyrone had created a webpage in 2012 as a place to be able to showcase all his work, but because it was created on a free platform, there was no way to be able to set up order processing. 
The order forms were a great way for Tyrone to be able to start to market his business; word of mouth started spreading and he was getting a few orders every couple of months. But then, along came the creation of Tyrone's Facebook, Instagram and TikTok pages. Facebook allowed him to record short messages for his followers to get updates on his latest pieces, and to have a presence in order to market his business.
Continuing our partnership with the Jesuit Volunteers, our 2020/21 JV, Megan Hawke, created Tyrone's TikTok page in May of 2021. With Megan's #hashtag suggestions and posts, Tyrone started to gain a TikTok following. Flash forward to our current JV, Alex Hanlon, who started working with Tyrone in August 2021. Together, they have brought Tyrone from 100 TikTok followers to 9,380! They work together for at least an hour a day, creating art, checking his email for orders, tracking the orders on an Excel spreadsheet, and mailing the finished products. Tyrone has blown up in the past few months and has attracted such a fan base that we had to send out an email to 25 people waiting on their orders to let them know he is hard at work and he appreciates their patience. 
When asked what she respects most about Tyrone, Alex said, "He is always willing to adapt. He's kind and he teaches me different painting applications. I feel like we learn together how to fine tune the hand-over-hand technique. The best part is we have fun and laugh during the process."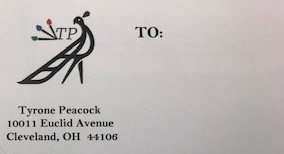 Alex also helped Tyrone develop his own logo that is placed on the labels that go onto the art tubes that the finished artwork is mailed out in, and together, they also set up a Venmo account for Tyrone for a convenient way for his patrons to purchase art. [Picture of label] Alex said, "My favorite part of the process is seeing the finished product – the culmination of his hard work coming together. And then also seeing the positive feedback and comments he receives on social media is inspiring and amazing!"
Case Western Reserve University Engineering Students have also taken an interest in Tyrone and his art. A group of 6 students is now working with UCP and Tyrone to try to engineer adaptive equipment or techniques that will help Tyrone be more physically independent during the creation process. They are also looking at an app that will help him be more independent with the business end of things. It will track orders, track payments, allow customers to pay with credit card and generate reports. Tyrone, Alex and those of us UCP are really looking forward to this partnership and are very excited to see the outcome.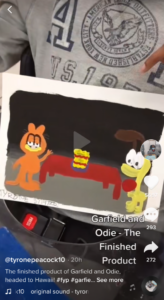 His most requested pieces are Garfield the cat (click on photo to the left to see a video) and Sonic the hedgehog. Tyrone's favorite pieces to paint are those of cars, especially Corvettes and Harleys.
"I feel blessed that my business is growing," said Tyrone. "I appreciate everyone's support and interest in my art. I'm grateful to be able to earn some income to help contribute to my wife and I's fixed income. Thank you everyone!" 
Leon, Tyrone's best friend responded with, "Tyrone, you are too humble. Your business is coast to coast and worldwide. You have orders coming in from Canada and Australia, and from San Francisco to Boston. That's my best friend!"
You can follow Tyrone on Instagram @Tyrone.Peacock75 and on TikTok @TyronePeacock10.
---