July 25, 2022
by: Guest Contributor
Reflections from Alex Hanlon, Jesuit Volunteer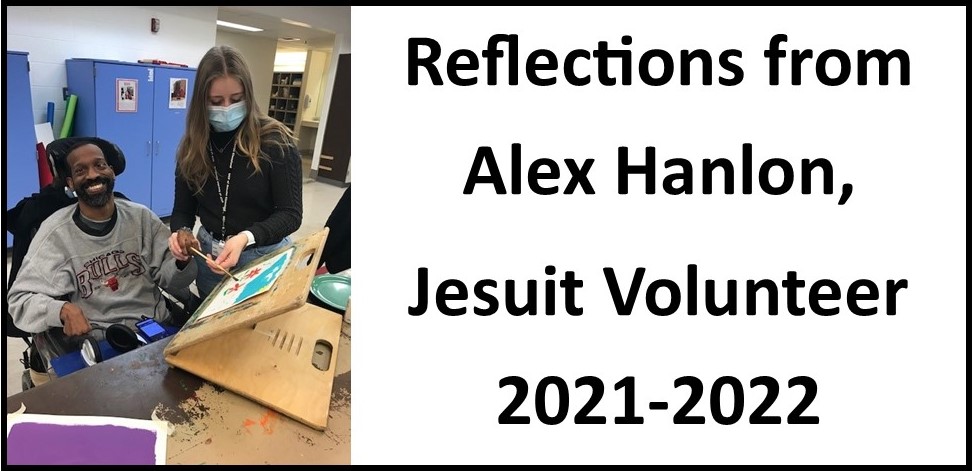 Hi everyone! My name is Alex Hanlon, the Jesuit Volunteer serving at UCP of Greater Cleveland from this past August 2021 to July 2022. The Jesuit Volunteer Corps is a year-long post-graduate volunteering opportunity in which we base our volunteerism off of these four core values: social justice, spirituality, simple living, and community. UCP has been the home of Jesuit Volunteers for around 10 years now, and it has been such a joy to be a part of this legacy.
What makes this work so unique is being able to see the amazing accomplishments clients are able to achieve over the span of a year. My position as a volunteer allowed me to be hands-on with helping clients in their personal and job-related situations. For example, I was able to observe career planning's occupational growth as they completed their work efficiently and diligently. I was able to see the progress of the workfloor's personal outcomes and watch as their accomplishments were highlighted in sticker charts along the walls. I was able to accompany clients to the Ronald McDonald House where we were able to serve as volunteers that provided hospitality services for families and children who call this place a home. Lastly, I assisted Tyrone Peacock on his art business, where we were able to sell his artwork all across the world, expand his social media presence, and hit over 13 thousand followers on TikTok.
I am so grateful to have the privilege of working with so many walks of life this year, and forever thankful to you all for graciously accepting me into this community. This is all possible because of the wonderful people here who make this workplace a special one. The clients and staff here have become more than just my acquaintances, but true family. Everyday presented an opportunity to engage in heartfelt conversations and fun activities, which strengthened my relationships with clients and staff greatly. As my time went on, I was able to witness how these beautiful relationships translated into a community based on trust, respect, and most importantly, love. A community like the one at UCP is a rare finding, and one that I will continue to long for as I pursue a career in nursing.
This experience being a volunteer here has been an unforgettable one, and one that will continue to impact my life in more ways than one. I cannot wait to hear about the amazing things the clients, the staff, and this organization will accomplish in the years to come. UCP of Greater Cleveland will forever hold a special place in my heart. Until we meet again ♥.
---