December 8, 2022
by: OakLeaf Services Contributor
Nick
Nick S. recently celebrated his one-year anniversary of being employed at JCPenney in Strongsville.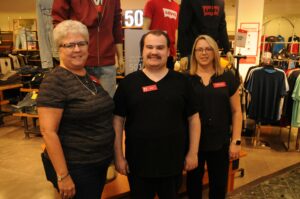 In April of 2020, Nick began receiving guidance from Greg Zaryk, OakLeaf Partners Placement Coordinator, and together they searched for a part-time job in the retail sector. After visiting many retailers, they eventually met with Julie Riley, Store Leader, and Tammy Bowles, Human Resource Supervisor, at JCPenney in SouthPark Mall. Julie was very familiar with OakLeaf Partners as she worked with Greg in 2015 to place other candidates in community jobs and later joined UCP's Business Advisory Committee. 
"Nick did an awesome job at his interview," said Greg, who was present when Nick was offered a position as a Sales Floor Associate at JCPenney. Since then, Nick has also been helping in their warehouse and assists the team with other duties as needed.
"Nick is a very hard worker and eager to learn new things," said Tammy. "He does a great job at a variety of tasks, such as putting security tags on merchandise and setting up the sunglass displays. Nick is well liked by his fellow associates, as he always has a smile and a helpful attitude."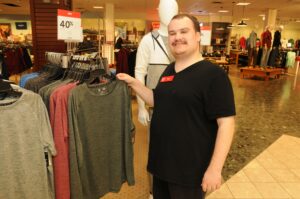 Prior to getting hired, Nick graduated from North Royalton High School and also participated in the Transition-to-Work program at the Cuyahoga Valley Career Center. When not at work, Nick enjoys everything related to locomotive trains and boasts a comprehensive knowledge about the many different past and present locomotive lines. "It's safe to say that trains are one of my biggest hobbies!" he said.
Now that Nick has successfully completed his first year at JCPenney, he sees himself learning even more tasks and is looking forward to his second year!
Way to go, Nick!
For more information about OakLeaf Partners Community Employment Program, please visit https://www.ucpcleveland.org/services-for-adults/community-employment/ or contact Kate Adkins-Dix at 216-791-8363 ext. 1252 or kadkins-dix@ucpcleveland.org.
---