December 13, 2022
by: Emily Hastings
Elijah's Story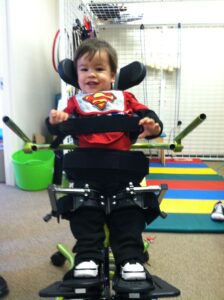 Elijah is a delightful 11-year-old boy who is always happy to see you! He was born prematurely and was soon after diagnosed with cerebral palsy, which affects his muscle strength and speech. Therefore he relies on assistive technology devices to help him move around and speak.
When Elijah started receiving UCP therapy services at 17 months old, he communicated using only his facial expressions. There were so many things Elijah wanted to say, and the UCP team tried out many different speech devices to see which would work best for him. They finally found one that he excelled at that uses eye gaze technology. This would make it possible for him to interact with the world using a mouse that is controlled with his eyes.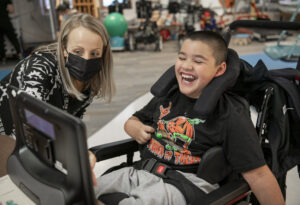 With this device, Elijah is now able to discuss an array of topics, such as requesting assistance, expressing his opinions and answering questions. His personality has blossomed. He has always been called "Smiley" here at UCP because of his infectious smile, but we are getting to see his smile even more now because he is able to express his thoughts without difficulty or frustrations. Most importantly, he knows he is finally understood.
Click here to make a gift to help children like Elijah fulfill their potential with the help of UCP!

---