December 19, 2022
by: Emily Hastings
Shira's Story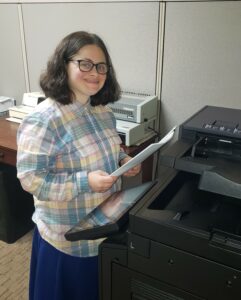 Shira started working with UCP's OakLeaf Partners in late 2020 to learn job-seeking skills and ultimately apply for, obtain and retain employment. While her previous jobs involved cleaning, she really wanted to work in an office environment. OakLeaf Job Placement Coordinator, Greg Zaryk, helped her build interview skills, and in December 2020 she participated in a mock interview with emeritus UCP Board Member, Ron Barber.
The mock interview went so well that Ron expressed interest in hiring Shira at his consulting firm. In Spring 2021, Shira started working three days per week as an Office Associate at RG Barber Consultants, CPA's. She assists with administrative duties including scanning and filing, and also provides light office cleaning such as vacuuming and dusting.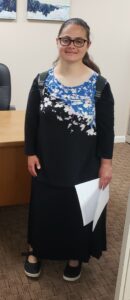 This is a great example of customized employment, a process that is personalized to meet the needs of both the employee and the employer. Her position incorporates Shira's previous experience in providing cleaning services after her administrative duties are complete. She quickly increased her hours – now working four days per week – and recently received praise from a client of the firm who, after visiting the office, said "Shira is a breath of fresh air."
Click here to make a gift to help adults like Shira find and retain employment with the help of UCP!

---