February 2, 2023
by: Emily Hastings
"More to Say" Parent Support Meeting – March 11, 2023
Join us for our next "More to Say" Parent Support Meeting where families will use UCP's adaptive gym to explore all things leisure! Activities will include adaptive art, adaptive cooking, adaptive vehicles, use of our harness system, AAC devices, ways to support language, with lots of assistive technology!
Where: UCP of Greater Cleveland (10011 Euclid Avenue)
When: Saturday, March 11 from 9am – 12pm
What: Learn ways to help our children with complex needs engage and enjoy play & leisure just like their peers! It'll be fun & interactive!
Who: Bring along the family, siblings included! Open to UCP families and non UCP families, so bring a friend! Open to all ages!
UCP's wonderful PTs, OTs and SLPs will be there to educate on the equipment and ways to assist with leisure and FUN! Information will also be provided on how to obtain assistive technology and adaptive equipment that will be used.
Please RSVP to Valerie Kessler at vkessler@ucpcleveland.org or 216-791-8363, ext. 1407.
Click here to download the flyer.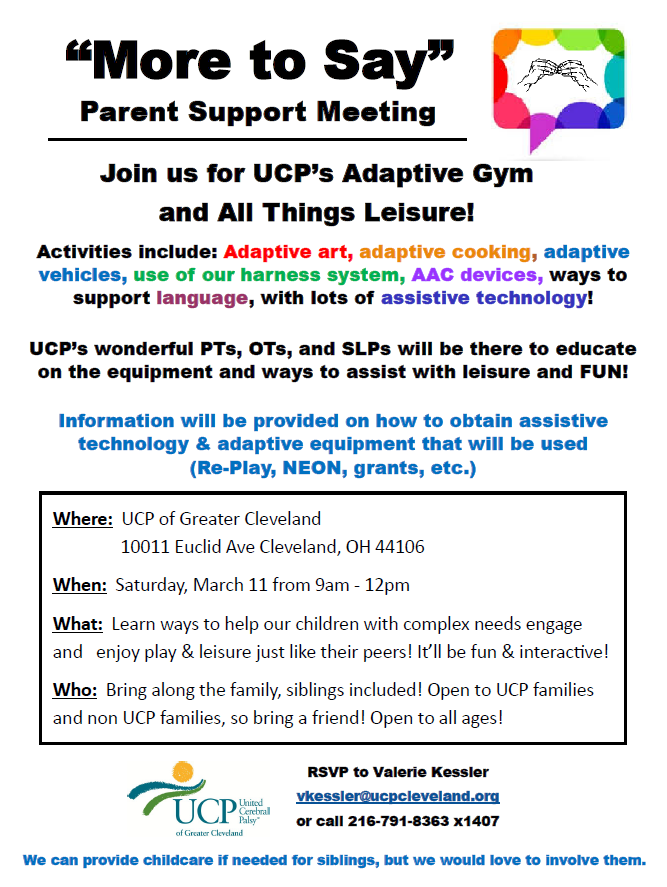 ---