March 7, 2023
by: Emily Hastings
Meet our 2023 Boots Fisher Memorial Award Winners!
At UCP of Greater Cleveland's 73rd Annual Meeting on February 28, 2023, we presented four Boots Fisher Memorial Awards. These awards are given out each year to deserving children and adults with disabilities in memory of Elaine "Boots" Fisher, a founding member of our Agency and a committed supporter throughout her life.  The Boots Fisher Memorial Awards are given to individuals in each program who demonstrate great strides towards independence. We were pleased to have Elaine's son, Lee Fisher, there to present the awards alongside his wife, Peggy Zone Fisher. 
Bryan – OakLeaf Career Planning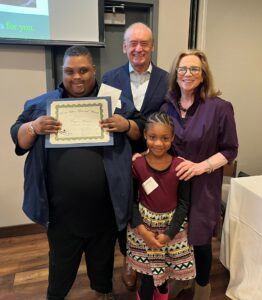 Bryan is a 32-year-old young man who attends the Career Planning Program at UCP. Bryan started at UCP in 2014 and has made great progress towards independence over the past nine years.
I don't want to give away too much that you will read in this year's annual report, but there is much to say about Bryan's journey. In these years at UCP, Bryan's growth has been astounding. He has mastered the art of prepping for his day, setting up for his various projects, and sanitizing his workspace. As you walk through the building, you might see Bryan sweeping up, packing supplies, shredding or even lending a hand to his co-workers. It is important to the UCP team not to DO for Bryan but to make sure he is EMPOWERED to reach his goals, and he has been more than successful. Bryan greets those he encounters every morning then he diligently goes to work and earns his pay. I think we all could learn a little something from Bryan and his work ethic.
When he is not working, Bryan volunteers his time throughout the community – giving back to Northeast Ohio organizations. He had waited and waited to go back to this the past few years, he started again by helping out just across the street at Ronald McDonald House and then various other non-profits. Bryan lives to help others – and to make a difference. But watch out for him on the dance floor – he can move like no other!
Philip – OakLeaf Homes & Day Program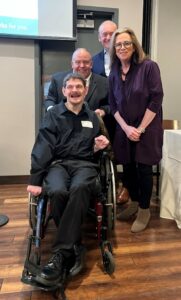 Philip moved into UCP's Edendale Home in December 2017 and fit right in with his housemates. As he settled in, it was immediately his home and his happiness was evident to all. He started socializing with peers like he never had before – and getting along with the team members working at the home. He is a sports fanatic and always looks forward to talking sports with anyone he encounters!
In the past year, Philip has made strides in going back out in the community. He attends weekly water exercise classes and loves visiting his mom's house. She missed him dearly during the shutdown as he did her. When the lift at the pool he swims in broke down, he was sure to contact the recreation department on a consistent basis for updates. This is just one example of how he is a strong advocate for himself.
When Philip was able to return to Day Services at UCP's Wolstein Center he expressed his desire to join the larger, more independent group. He was adamant about the change and advanced to the group in April of 2022. He is now eager to attend day services, has increased his social skills and greets everyone with a smile. He continues to advocate for himself and has made significant progress in better communicating his wants and needs and personally created his own Day Services/activities schedule. He goes for walks each morning with John Law, OakLeaf Career Connector, and participates in a weekly sports podcast with his friends and our Jesuit Volunteer, Chris Funari. We see him at the Wolstein Center everyday now and could not be happier!
McKenzie – LeafBridge School-Based Services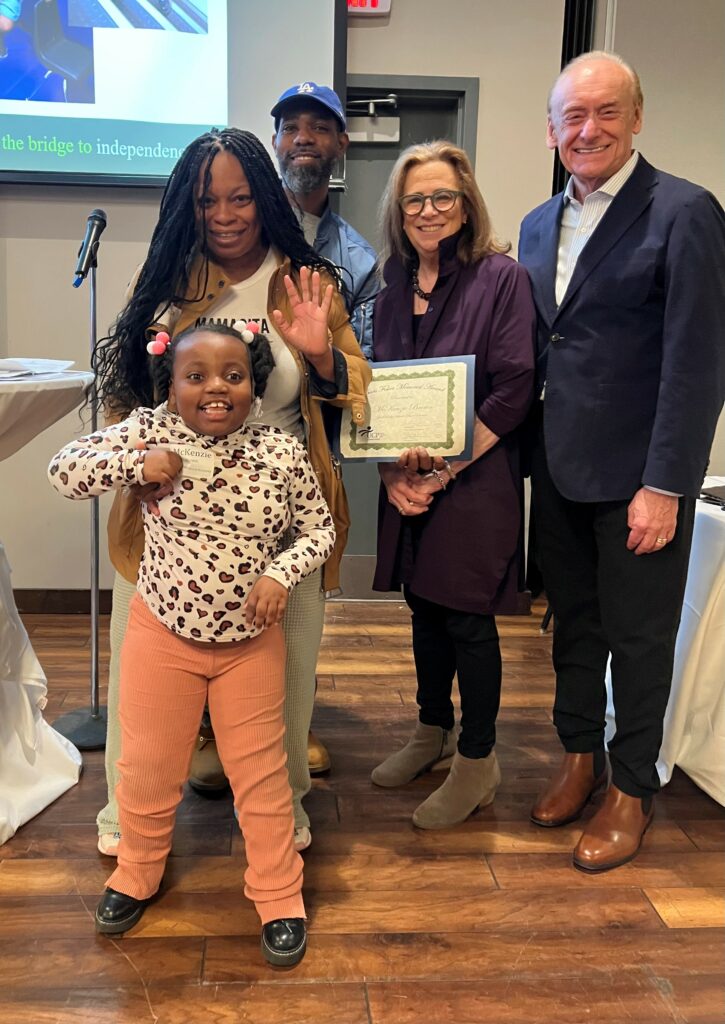 McKenzie is a very sweet 7-year-old who has been receiving physical and occupational therapy services in the Maple Heights School District. McKenzie was first evaluated in preschool, where the team noticed that she was crawling as her primary means of mobility, including crawling up and down stairs. As she learned to walk, she needed help to take steps, taking just about five steps at a time with support from a therapist.
After one year of receiving therapy with LeafBridge team, McKenzie began using a reverse walker with little assistance to walk further, stand for longer periods of time and even use the stairs independently. She is motivated by her peers and continues to make friends with everyone she meets.
McKenzie does her best to walk in the hallways between classes and in her classroom. She continues to receive school-based therapy services to address her endurance, balance, and stair safety skills. Her social personality and eagerness to engage with her peers has driven her to work hard and achieve her goals. She has made so many gains and the look of accomplishment and pride on her face says it all. McKenzie certainly deserves this award as she has made phenomenal strides towards independence.
Marissa – LeafBridge Alternative Education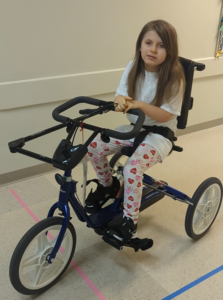 Marissa is a sweet, loving, and strong-willed girl who has attended the LeafBridge Alternative Education Program since 2021 and joined our therapy services shortly after. Anyone lucky enough to know Marissa will tell you that she has a brilliant smile, contagious giggle, and gives the sweetest hugs. Marissa has blossomed over the past year and continues to astound staff with her achievements both academically and personally.
When Marissa came to UCP, she was reserved and timid, often struggling to move from one place to another. Her limited vision and sensory sensitivity often led to her falling to the ground and even bursting into tears of frustration when she was presented with something new, especially equipment with wheels on it. On the playground, Marissa would stand in a single spot, intermittently twirling around. She was still learning how to use her communication device and how to do day-to-day activities in a timely manner. But that has all changed.
With hard work and persistence, Marissa now moves between rooms, engages in academic and leadership activities, loves to swing and independently rides an adaptive tricycle. She propels herself on a scooter board, and requests to ride on the rollercoaster. Marissa uses her speech device to communicate, has started to ask for food and snacks and is working toward feeding herself.
Marissa has a knack for technology and uses an adaptive keyboard, navigates a touch screen on a computer to identify letters, and enjoys playing matching games.
Marissa embodies courage and her persistence through challenges is admirable. She has astounded those around her and her team could not be more proud of her gains in independence and ability to explore the world around her.
---