March 13, 2023
by: Emily Hastings
Employer of the Year Award – Giant Eagle
Every year at our Annual Meeting, we honor one employer who has been a long-standing partner of UCP who employs and serves individuals with disabilities. This year that award went to Giant Eagle.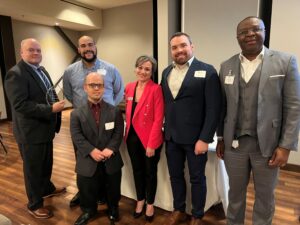 One of our greatest challenges, like many in the field, is to develop successful employment partnerships in the community. Our team members work hard to make this happen, and OakLeaf Partners has been very fortunate to have a strong partnership with Giant Eagle, not only in their commitment to hiring individuals with disabilities but also in their philanthropic support of the Agency.
Since 2015, Giant Eagle has become one of OakLeaf Partners most prolific hiring partners, employing a total of 42 individuals with disabilities referred through OakLeaf Partners. Individuals work at many locations throughout Northeast Ohio, filling a variety of jobs, such as store associates in the bakery, in produce, in seafood, and the dairy departments. They employ individuals with different abilities in administrative capacities, as well as cashiers, baggers, lot attendants, and even a truck driver.
In addition to hiring, several Giant Eagle locations across Greater Cleveland have hosted community-based assessments to help individuals obtain a "real-life" work experience and to determine their job-readiness.
It is clear that Giant Eagle is committed to a diverse and inclusive workforce as they have allowed individuals with disabilities to gain both personal and financial independence through meaningful work.
Thank you, Giant Eagle for all you do.
---