April 25, 2023
by: Emily Hastings
Meet our new Director of Development!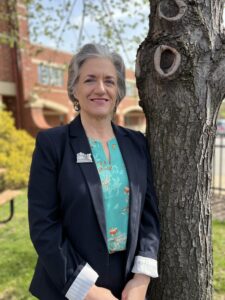 UCP of Greater Cleveland welcomes new Director of Development, Deborah Goldstein. Deborah joined our team this month and has already hit the ground running. With a bachelor's degree in business management from Ursuline College, she brings experience in proven impact from several top companies and nonprofits in the Cleveland area, such as Case Western Reserve University, Miami University, McKinsey & Company and Ernst & Young.  Deborah's professional experience has focused on relationship building and fundraising — always with an eye toward improving the region and in Lakewood where she lives.  She is an advocate and supporter of high-quality education for everyone and for making opportunities available to those who have historically been excluded.   A Lakewoodite for over 13 years, she also volunteers with her local public school in various roles.
Deborah says, "I am excited to join the leadership team at UCP of Greater Cleveland.  It's a rare opportunity to apply all my skills and experience to support the meaningful work being done.  I'm very lucky to work at an agency where individuals with disabilities come for the immediate and long-term services that they need to lead happy, healthy, and enriched lives."
Deborah can be reached at 216-453-4969 or by email at dgoldstein@ucpcleveland.org. She looks forward to meeting all in the community who so generously support UCP of Greater Cleveland.
---