Leadership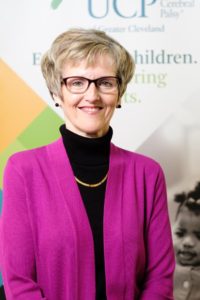 Patricia S. Otter
President & CEO
Patricia S. Otter, who became President and CEO in 2007, started with the agency in 2001 as Director of Human Resources. Prior to joining UCP, Trish spent seventeen years as a human resources professional with PNC Bank and Charter One Bank. Trish's dedication and knowledge of the agency's programs, staff and clients along with her integrity, character and leadership skills serve the Agency well in its mission. She is a consensus-builder setting high individual and agency performance expectations to ensure organizational success and outstanding client care. She is a member of the Developmental Disabilities Practice-Based Research Network Steering Committee and a member of the Developmental Disabilities Provider Consortium. Trish serves on the Board of Trustees of the Ohio Provider Resource Association (OPRA) and its Finance Committee.  She also serves on both the Affiliate Services Committee and the Board of Directors of the National UCP organization.  Trish is a graduate of the Leadership Cleveland Class of 2013 and a member of the Union Club. She is a Cleveland area native with a Bachelor's degree in Business Administration from Baldwin Wallace College.
---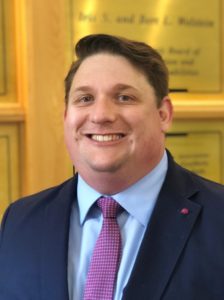 Andrew Kruse, CESP

Associate Director of OakLeaf Services
Andrew became Associate Director of Oakleaf Services in 2018 after serving UCP for the past 3 years as Transition Services Coordinator and Job Placement Specialist. He holds a Bachelors Degree from Canisius College in Buffalo, New York. Andrew has 10 years of experience working with people with Developmental Disabilities. Previously, he has held positions in the residential and community employment settings. In his spare time, Andrew enjoys fishing, traveling, cooking and gardening with his wife.
---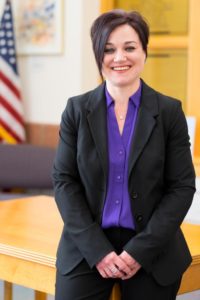 Beth A. Lucas, MNA
Chief Operations Officer
Beth Lucas, who became Chief Operations Officer in 2014, joined the agency in 2008 as the Director of Development.  She has spent her career in the nonprofit sector specializing in fundraising and marketing. Her passion for program development and sustainability has driven her to pursue the operational side of the agency. Beth has a Master's of Nonprofit Administration from John Carroll University and is involved in mentoring young nonprofit professionals.  In her free time, Beth enjoys watching football, exploring the Cleveland food scene and spending time with her nieces and nephews.
---
George Neundorfer
Maintenance and Facilities Manager
George Neundorfer joined UCP in 2011 as an Environmental Services Technician and assumed his current position of Maintenance and Facilities Manager in 2016.
---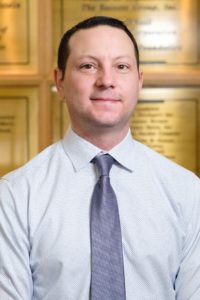 Matthew Natole, MBA

Director of Finance & Administration
Matt Natole joined UCP in June of 2017 as Director of Finance & Administration. Matt has several years of non-profit financial management experience in behavioral healthcare and community corrections. In addition to industry specific non-profit experience he also has extensive knowledge of corporate defined contribution plans such as 401(k) & 403(b) through having spent time early in his career working as a licensed registered representative for a leading investment advisory firm in Cleveland.  He has continued to keep up with the financial markets. Matt has a BBA in Management/Finance from the University of Toledo and an MBA in Finance from Colorado Technical University. In his free time, he enjoys golfing, fishing, watching Cleveland sports and he and his family enjoy traveling to many different state and national parks around the country. He also coaches youth baseball in the summer and soccer in the fall.
---
Paul J. Soprano, MA
Director of OakLeaf Services
Paul Soprano became the Director of OakLeaf Services in 2014 after serving nine years as Director of Vocational Services and three years in Residential Services at UCP.  He has a Bachelors Degree from John Carroll University and a Masters from Bowling Green State University.  Paul has 20 years of experience in the Developmental Disabilities and Vocational Rehabilitation fields.  Prior to UCP he was Supervisor of Work Evaluation, Facility Supervisor and Vocational Evaluator for a leading vocational rehabilitation provider in Cleveland.  Paul is an avid world traveler and aviation enthusiast, volunteers as a Cleveland Hopkins Airport Ambassador and loves trying new restaurants.
---
Intesar A. Taye, OTR/L
Director of LeafBridge Services
Intesar Taye joined UCP in 1993 as an Occupational Therapist and Clinical Coordinator and became the Director of LeafBridge Services in 2003.  She holds a Bachelor of Science degree in Occupational Therapy from Cleveland State University as well as certification in Threshold Electric Stimulation and is NDT trained.  Intesar continually participates in workshops on issues relevant to her work, including spasticity management, sensory processing, Therasuit, neurodevelopment treatment and vision impairment. Her seventeen years of experience as an OT include screening, evaluating and treating children with a variety of motor disabilities and developmental delays.  She also had the responsibility for assisting in the development of the research protocol and monitoring the research development of the Steps to Independence program. Intesar enjoys spending time with her four children, as well as doing puzzles and brain teasers.
Save
Save
Save
---
Bob Taylor, MBA, PHR, SHRM-CP

Director of Human Resources
Bob Taylor started as UCP's Director of Human Resources in April of 2019. Previously, he worked as a senior member of the employee relations team at Westfield Insurance where he was also a primary leader of the Project SEARCH site on campus. Bob holds MBA and bachelor's degrees from The University of Toledo and has over 15 years of HR experience. Prior to starting his HR career, Bob worked as a direct care provider at a group home for individuals with developmental disabilities in Medina County. Bob and his wife (Lauren) are proud Northeast Ohio natives, live in Lakewood with their two children (Laine and Henry) and are actively involved in the Greater Cleveland community.
---